Ladino
Mose Salio de Misrayim
Huyendo del rey Paró,
Fuese derecho Midian
En trose con Yitro.
Dio le asi par la su hija
Porqu'era teniente de Dios;
Mosé pasaba el ganado,
Que su suegro le entrego.
Y al pasando su ganado,
Al monte de Horev llego;
Asentose en una piedra,
Esperando ver a Dio.
Oyó una voz que decía:
"Mosé, Mosé, ml siervo,
Descalza de tus zapateos;
Qu'en lugar santo estas tu.
Vete derecho a Misrayim;
Dile al rey Paró
Que te entregue a mi pueblo,
A mi pueblo hebreo.
Y si no te lo entregaré
Castigarle quiero yo
Con diez plagas que le mande,
Pa'que separ quien soy yo."
(Hebrew) Hodu l'Adonai ki tov,
Ki le'olam hasdo;
(Ladino) Alabado sea su nombre,
Porque siempre bien nos dio
English
Moses went out of Egypt,
Fleeing from King Pharoah,
And went straight to Midian
And met Jethro.
He was given his (Jethro's) daughter
Because he was a God-fearing man. 
Moses tended his flock,
Which his father-in-law assigned to him.
While following his flock,
He came to the mountain of Horeb;
He seated himself on a rock,
Hoping to see God.
He heard a voice which said:
"Moses, Moses, my servant,
Take off your shoes;
You are in a holy place.
Go straight to Egypt;
Tell King Pharoah
To send out my people,
My Hebrew people.
And if he will not let them go,
I will want to punish him
With ten plagues which I will send him,
So that he will know who I am."
Give thanks to the Lord for his goodness,
For his everlasting graciousness;
Praised be his name,
Because he is always good to us.
Description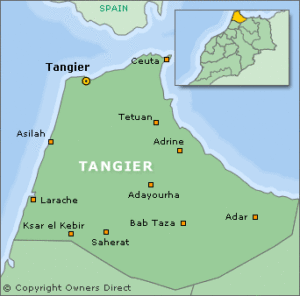 This romansa (ballad) tells the story of Moses in the wilderness of Midian, where he lived for forty years as a shepherd tending sheep that belonged to Jethro, his father-in-law. At Mt. Horeb, in the well-known story of the burning bush, God orders Moses to deliver the people of Israel from oppression. This romansa was sung during the Passover holiday by women in the sizable Jewish community centered around Tangier and Tetuan, across the Straits of Gibraltar from Spain. Following the infamous edict of expulsion in 1492, thousands of Spanish Jews crossed the straits of Gibraltar to North Africa, where Jewish communities flourished until the mid-20th century. After the establishment of the state of Israel in 1948, a majority of the Jews from Morocco and other North African countries immigrated to the new Jewish state.
Source: Susana Weich Shahak, Musica y Tradiciones Sefardies (Salamanca: Centro de Cultura Tradiciaonal Diputacion de Salamanca, 1992)