A celebration of 95-year-old National Heritage Award-winning Sephardic singer and composer, Flory Jagoda, in her own words, with live music by Trio Sefardi.
Presented in collaboration with the National Institute for Holocaust Documentation at the United States Holocaust Memorial Museum.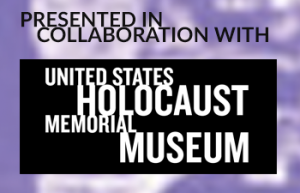 "La Nona Kanta" is a tale of survival and courage that has particular relevance in today's turbulent world. In filmed interviews, Flory tells the true story of how music helped her escape from Nazi-occupied Yugoslavia when she was a teenager; how she made a life in the United States; and how she turned the tragic fate of her family and Balkan Sephardic culture into a celebration of five centuries of faith and tradition, giving meaning to the rest of her life, and delighting audiences worldwide.
Flory's filmed narration* alternates with live performances of her music by Trio Sefardi, pictures from the Altarac family archives, animation, and translations of Flory's songs, which were composed in Ladino and Serbo-Croatian.
"Trio Sefardi's beautiful harmonies and skilled accompaniment movingly translates the joy and soul of the lost world I remember so well. Along with my own family, I am proud to call them my musical heirs." Flory Jagoda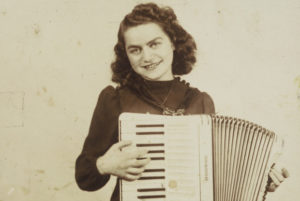 Expanded program notes and a timeline put Flory's story in historical context. Educational materials and residency workshops are also available to give audiences of all ages an in-depth experience of Sephardic culture.
As part of its collaboration with the National Institute for Holocaust Documentation at the US Holocaust Memorial Museum, the museum will assist with publicity through its website and other social media. In some instances, the museum may be able to send a member of its staff to presentations of this program to discuss ongoing outreach efforts to Sephardic communities.
Technical requirements:
projector and screen, 6 microphone sound system, and internet connection.
For bookings and additional information:
 please contact Howard Bass: 703-635-0273|  howardbass7@gmail.com
Sample Flyer: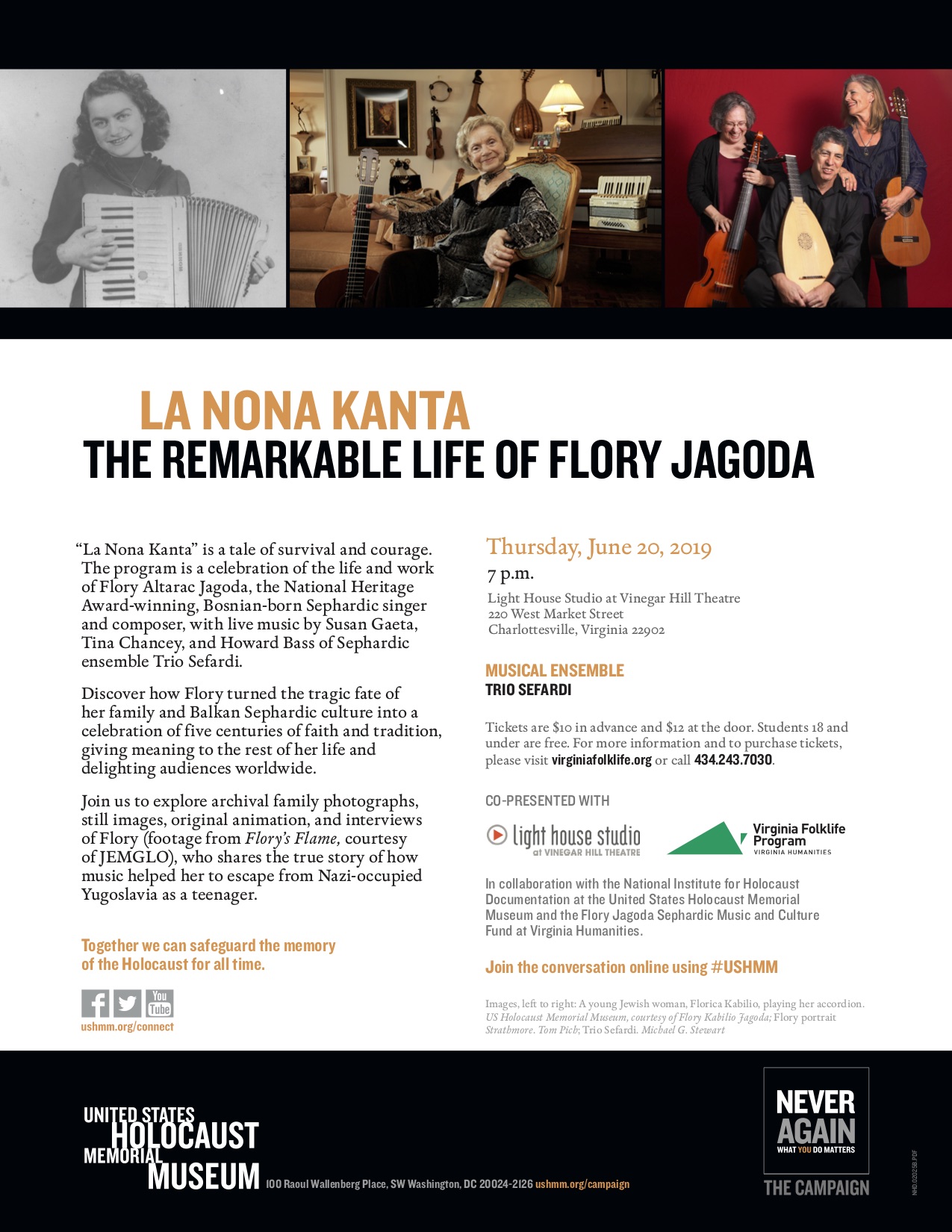 *Interviews recorded by JEMGLO in 2013-14 for the documentary,
"Flory's Flame," and used by permission of the filmmakers.www.JEMGLO.com