---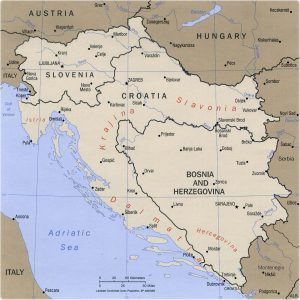 We are honored to be able to include the first recording of Flory's song on this CD. Sung in the Bosnian language (formerly known as Serbo-Croatian), the lyrics tell of the teenage Flory's feelings when fleeing Zagreb in the summer of 1941, shortly after the Nazi occupation of Yugoslavia. She and her parents were living in Zagreb where her father, Michael Kabilio, owned a tie-making business. When it became clear that flight was the only option for survival, her father arranged for Flory to travel on false papers to Split, where she would be met by friends of the family, the Finzis.
She traveled alone (her parents were able to follow some days later), without the yellow star that the Nazis had mandated for Jews, and her father put her on a train to Split with the following injunction: "Play your harmoniku" (Bosnian for accordion) "but don't speak; just play your accordion." Flory ("this little girl with her harmoniku") did just that, and soon people were singing along (no Ladino songs, of course). Even the conductor came in and sang, forgetting in his enjoyment to ask Flory for her ticket. Michael and Flory's mother, Rosa, arrived in Split a few days later. After living there briefly they were moved to the island of Korçula, and later the fled to Bari, Italy, occupied by the Allies by 1944. This melody, which came to Flory during the journey, lay dormant for many decades, but she wrote it down around 2010 and taught it to Susan and Howard. 

Susan, vocals, guitar; Howard, guitar; Paul Oorts, accordion.
| | |
| --- | --- |
| Tata mi kaže | My father tells me |
| Nemoj govoriti | Don't speak, |
| Samo sviraj harmoniku | Just play your accordion, |
| Sviraj hamoniku i pjesme pjevaj | Play your accordion and sing your songs. |
| (2x) | |
| Neznam zašto bježim | I don't know why I'm running. |
| Sama je ostala | What have I done? |
| A ja sviram harmoniku | I just play the accordion, |
| Sviram harmoniku i suze lijem. | Play the accordion and sing songs. |
| | |
| Zašto ja bježim | Why am I running away? |
| Pa sta sam učinila | WHat have I done? |
| Ja samo sviram harmoniku | I just play the accordion, |
| Sviram harmoniku i suže lijem. | Playing the accordion and shedding tears. |
| | |
| Moja mila Majka | My dear mother |
| Sama je ostala | Is left alone, |
| A ja sviram harmoniku | And I'm playing the accordion, |
| Sviram harmoniku i suže lijem. | Playing the accordion and shedding tears. |
| | |
| Composition by Flory Jagoda | |