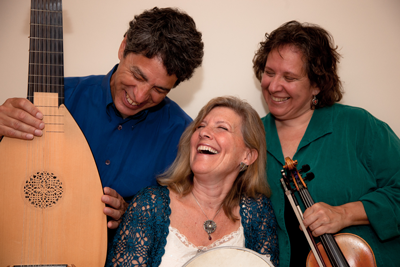 Trio Sefardi is a confluence of three performers who share a love of, and a wide-ranging experience with Sephardic music, playing with La Rondinella, the Western Wind, and National Heritage Fellowship winner Flory Jagoda.  Group members combine a respect for tradition with a creative approach to arranging and scoring dedicated to bringing the vibrant past into the living present.
The Sefardim, the Jews of Spain, lived on the Iberian Peninsula for fifteen centuries. Expelled in 1492 by King Ferdinand and Queen Isabella, the Sefardim settled in North Africa, the Middle East, France, Italy, and parts of northern Europe, but were welcomed most warmly in the Ottoman Empire. In exile the Sefardim maintained their language, Ladino, and their oral culture. Songs were passed down through the generations, usually by women, and new songs were composed about love, loss, daily life, holidays, and history. Our CD celebrates this beautiful, joyous, and, at times, haunting legacy.
Credits
Executive Producers: Howard Bass and Tina Chancey
Session Producer: Tina Chancey
Recording and mastering engineer: Paul Bensel
Notes: Howard Bass
Art Direction and Photography: Michael G. Stewart
Graphic Design: Christa McInturff
Trio Sefardi photo: Jeff Malet, MaletPhoto
Recorded at Spencerville Seventh-day Adventist Church, Spencerville,
Maryland, June 2011
guest percussionist: Steve Bloom
Design motifs are from an Israeli-made copper bowl that belonged to Tina's mother, Sally Chancey.
For assistance and support, thanks to Flory Jagoda and to Mark Willey and the staff at Spencerville Seventh-day Adventist Church.
We extend our deepest gratitude to those who have sung, sustained, documented, and recorded this repertoire.
---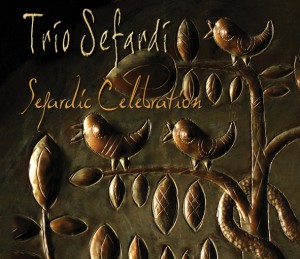 All of the songs on Sephardic Celebration are sung in Ladino except for "Yo me soy la morenica," which is sung in Spanish. For notes on the Ladino language, Sephardic history, and much more, please visit www.larondinellasephardicmusic.com or see the resources section on this website.
Translations, Credits, and Descriptions

---
Bio of CD Guest Performer 
Steve Bloom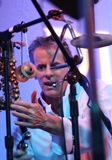 guest artist, percussion
launched his professional drumming career in 1969, and has performed and recorded in more than a dozen countries from the Middle East to Africa to Canada with Tito Puente and other Latin and Cuban artists, plus stars of the genres of Jazz, Celtic, Persian, Sephardic, and New Age music. Throughout the 1990s, Steve studied intensively with the reigning Cuban masters of bata drums, Cantos, and other sacred Afro-Cuban traditions, and he has received initiation from bata elders that allows him to play "consecrated" bata in Santeria ceremonies. He is co-founder of Washington's Dance Place, a theater for dance and related arts that is a cherished venue in the D.C. cultural scene. For twenty-five years he directed Havana Select, an ensemble of drummers, singers, and dancers that performs colorful Afro-Cuban traditions. He is co-director and percussionist with Sweet Saludos, a band performing world-class folkloric and popular music from throughout Latin America, Cuba, and Spain that is a mainstay at Rumba Café, the nerve center of D.C.'s Latin Quarter in the Adams-Morgan neighborhood. http://www.musicbyhand.com