Watch Trio Sefardi share the music of the Sephardic Jewish Tradition at Upcoming Performances:
An die Musik LIVE!
409 North Charles, 2nd floor, Baltimore, MD
---
Sunday, January 28, 2 p.m.
Center for Jewish History:  
International Ladino Day: A Celebration of Story and Song
Leo & Julia Forchheimer Auditorium and The Paul S. and Sylvia Steinberg Great Hall 
Center for Jewish History | 15 W 16th Street New York, NY 10011
Join the American Sephardi Federation for a festival of stories and songs celebrating Ladino, the remarkable language also known as Judeo-Spanish.Dr. Jane Mushabac will perform excerpts from her highly acclaimed 2016 novel, rich with Ladino expressions: 
His Hundred Years, A Tale
. Also hear wonderful singer/accordionist Jane Carver; renowned Sephardic thought leaders, Rabbi Marc Angel and Rabbi Nissim Elnecavé; and a musical finale by the illustrious Trio Sefardi, with 
Howard
 Bass, Tina Chancey, and Susan Gaeta, who has toured with the legendary Flory Jagoda.
Please click here or call (800) 838-3006 to purchase tickets
www.cjh.org
---
HOUSE CONCERTS OF NOTE:
The trio will be presenting house concerts in the following locations. If you are interested in attending one of the performances, please contact us.
Silver Spring, Maryland (

Jan. 26

)
Kent, New York (Putnam County, 

Jan. 27

)
Greenwich, Connecticut (

Jan. 29

)
For additional information on upcoming performances, please contact us.
Selected Past Performance Venues
Trio Sefardi has been to share the Sephardic tradition at many wonderful venues, including:
Kennedy Center Millennium Stage
With Post-Classical Ensemble at the Kennedy Center
National Gallery of Art
Richmond Folk Festival
Washington Folk Festival
Southern Methodist University
Takoma Park Folk Festival
Highland Park, NJ, Conservative Congregation
Charlottesville, Va
Washington Revels, Lisner Auditorium, DC
Greek Jewish Festival, New York City
Shepherdstown, West Virginia
Tifereth Israel, Washington, DC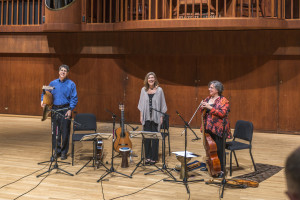 ---