We draw from the rich heritage of Turkish, Balkan (especially Greece and the former Yugoslavia), Middle Eastern, and North African traditions to create programs that demonstrate the range and depth of Sephardic song. Our programs typically include some songs we learned from our teacher and mentor, Flory Jagoda, the Bosnian-born singer, composer, and National Heritage Fellow, with whom we were privileged to work and perform over many years.
All songs are sung in Ladino, except for a few from Flory's repertoire that are in the language of Bosnia (formerly known as Serbo-Croatian). While Sephardic music is by nature a singing tradition, much of it made, maintained, and passed along by women, we have always varied our programs with instrumentals featuring bowed and plucked strings and percussion. To highlight the variety of our musical offerings we use instruments from three different traditions; modern guitars; early music instruments such as medieval rebec and renaissance lute, violin and viola da gamba; and ethnic dumbek, riq and Pontic lyra.
The trio has performed in many different settings, from large concert halls, outdoor festivals, synagogues, colleges and museums to small house concerts. We are happy to work with program sponsors to choose repertoire that works best for their audiences and venues.
Trio Sefardi
Jewish Roots and History

Songs about Patriarchs and Matriarchs and specifically religious or sacred subjects.

Holidays, Celebrations, and Marriage

Celebratory songs about Pesach, Rosh Hashanah, Hanukah, the Sabbath, and marriage.

Flory Jagoda's Songs

 Compositions and traditional songs from the repertoire of the beloved Bosnian-born singer, composer, and teacher (and everyone's favorite Nona).

 Sephardic Exile

 Songs from places where the Sephardim settled after the Edict of Expulsion from Spain in 1492 and those that express a longing to return to Spain.

Courtship, Love, and Loss

Secular songs about heartbreak, happiness and the ways of love.

Food and Drink

Songs that celebrate the timeless virtues of wine, rakí, and eggplants!

Holocaust Songs

Narratives from the Balkans, a lesser-known tragedy of Jewish communal destruction.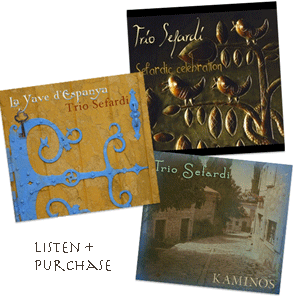 special offerings
Subtitle goes Here
School Workshop

Multi-Media Presentation

Additional Workshops

We can also present a wide range of more general workshops for public schools, religious school classes, and adults. Topics include:

Sephardic History and Culture (a discussion

Hands-on workshops on singing and accompanying Sephardic songs (for singers and instrumentalists);

Sephardic holiday songs for Pesach, Hanukah, Rosh Hashanah, and others

House Concerts

The trio is happy to present house concerts, where music can be heard and appreciated in an intimate setting, the way those who made these songs would have shared them, with friends and family sitting around in a parlor or on a patio. Such programs are less formal, often with some dialogue between the trio and the audience. House concerts are almost always presented without microphones and printed programs; translations are paraphrased and the setlist is sometimes assembled in a more whimsical way. Please 

contact us

 if you are interested in a Trio Sefardi House Concert. 
Use this form to contact or email howardbass7@gmail.com