Flory Jagoda: Rikordus di Nuestra Nona
Since January 29, 2021, when Flory Altarac Jagoda left this earthly realm, I have seen several beautifully written tributes, and before too much more time passes, I wanted to add my voice to those who are mourning her passing and celebrating the incalculable gifts she gave us. From the late 1990s until the end of her performing career around 2015 I was Flory's regular guitar accompanist. This account memorializes the experiences I shared with her during that time.
In the late 1980s I was one of four musicians who started an ensemble called La Rondinella. We were mainly an early- music group, but since one of the members, Rosalind Brooks Stowe, was a founding member of the Boston-based Sephardic ensemble Voice of the Turtle, we decided to include Sephardic songs in our repertoire. One of our first DC-area performances took place at River Road Unitarian Church in 1989. In the audience was Flory Jagoda, someone whose music I was familiar with but whom I had yet to meet. After the concert, she came up and introduced herself and I remember well how excited and enthusiastic she was to encounter a group in the Washington area performing Sephardic music. After correcting several errors I had made in talking about the music, she offered to teach us some of her songs. We jumped at the chance to work directly with such an important tradition-bearer. 
There was no way for me to know what that first encounter would mean for my future. La Rondinella learned several songs from Flory and began including them in our repertoire; we recorded six on our second CD for the Dorian label ("A Song of David," 1993). We did a few performances with Flory, too, but it wasn't until several years later that my relationship with her deepened into a partnership and changed the course of my life. Flory had a small stroke in the mid-1990s, and while her recovery was nearly total, she was no longer able to play her guitar accompaniments to her satisfaction (and high standards). She called and asked if I'd be interested in working with her, learning the parts, and doing some performances. I agreed instantly—as if anyone could possibly say no to Nona!
Thus, as the 20th century neared its end, I began weekly sessions with Flory in her basement studio at Flory and Harry's beautiful, multi-level home on Lake Barcroft, in Falls Church, Virginia. I would go around the side of the house to the sliding screen door and walk into Flory's world. She would be sitting there, waiting for me, often playing the accompaniments that she would pass along to me. Although I considered the lute my main instrument at that time, Flory insisted that I use a guitar; the lute, she said, was "too pretty" for Sephardic songs. Some years later when I came to work with her at her apartment in Alexandria, as I walked into her music room she asked, rhetorically, "How many times have you found me sitting here like this?" No matter how many times it was over the years, it was never too many. 
One of the first songs we worked on was "Porke yoras hermoza mujer," about a sad young woman disappointed in love, the kind of song Flory described as "mushy." An exacting teacher, Flory had firm ideas about how her songs should be accompanied. I learned by rote and repetition, a new experience for a classically trained musician who relied heavily on printed scores. She did have hand-written accompaniments that she would give me, but there was so much more to accompanying Flory that couldn't be conveyed in black and white. I saved all the hand-written music she gave me, and I see that sometimes she just gave me the lyrics, not the written accompaniment. My own hand-written notes on these pages show the chord changes and such notations as "play in 6ths," or "echo melody in 3rds." 
After some months of working together, Flory felt that I was ready for live action and we began to perform in public together. Sometimes on the way to performances she would say, "You know, I really miss just being able to take my guitar and play my songs," which made me feel somewhat inadequate, since I sensed that I hadn't quite lived up to her expectations. At one of our practice sessions, she said to me, "Okay, Howardiko (her Sephardic nickname for me), you've learned the notes, but now you need to put something of yourself into it." I thought she meant I should begin to improvise, but as soon as I departed from what she'd taught me she would stop and make me play the accompaniment she had drilled into me. It finally dawned on me: what she meant was not about improvisation—it was about putting your soul into the music. Once that realization clicked in, everything changed, and Flory began to say, with great satisfaction, "Now you're breathing with me!" As far as I can recall she never again said she missed the days when she could just accompany herself—I had become her hands, just as another of her acolytes, Susan Gaeta (my Trio Sefardi colleague and dear friend) was in the process of becoming her voice. Susan told me that not long before Flory ended her public performing Flory said to her, "Now you're me."
Performances with Flory were exciting and fulfilling in so many ways, for audiences and for those of us who had the privilege of performing with her. It was always amazing to see how she brought her audiences into her world, how she cast a spell that brought to life the village of Vlaseniça, where the large Altarac family made their home. There was a degree of spontaneity and unpredictability to performances with Flory, especially as age began to take its toll on her memory. As her accompanist, I had to be ready to bridge gaps and jump to where she'd gone, but such moments never distracted from her performances. Sometimes other musicians, more accustomed to performing a piece as it was done in rehearsal, would find this situation harder to handle. After one typical concert, a fellow performer said to me, somewhat indignantly, "I wonder why we even bother to rehearse!" 
At one performance we were about to play her tribute to her grandmother, "Rikordus di mi Nona" (Memories of my Grandmother), for which she had taught me a lovely instrumental introduction. Flory began to sing just as I began the intro, and we both stopped and looked at each other. Since she seemed puzzled, I said, "Flory, don't you want me to play the introduction?" and she said, "Oh, there's an introduction?" I said, "Yes, you wrote it!" The whole audience burst into laughter, and then I proceeded to play the beautiful music she composed to start this heartrending composition.
Susan and I, who performed and traveled extensively with Flory during the last fifteen years of her musical career, were always ready to make sure she had the right instrument in her hands, her capo on the right fret, or was following (more or less) the set list we'd planned. As others have pointed out, traveling with Flory, especially by car, always meant singing. I'm not much of a singer myself, and I was almost always the driver on our car trips, but I loved hearing Flory and Susan harmonizing, and would occasionally join in with a bass line. She also loved the scenery we traveled through, and I can hear her voice now from a trip we made down through the Shenandoah Valley, saying, "Look how pretty, honey!"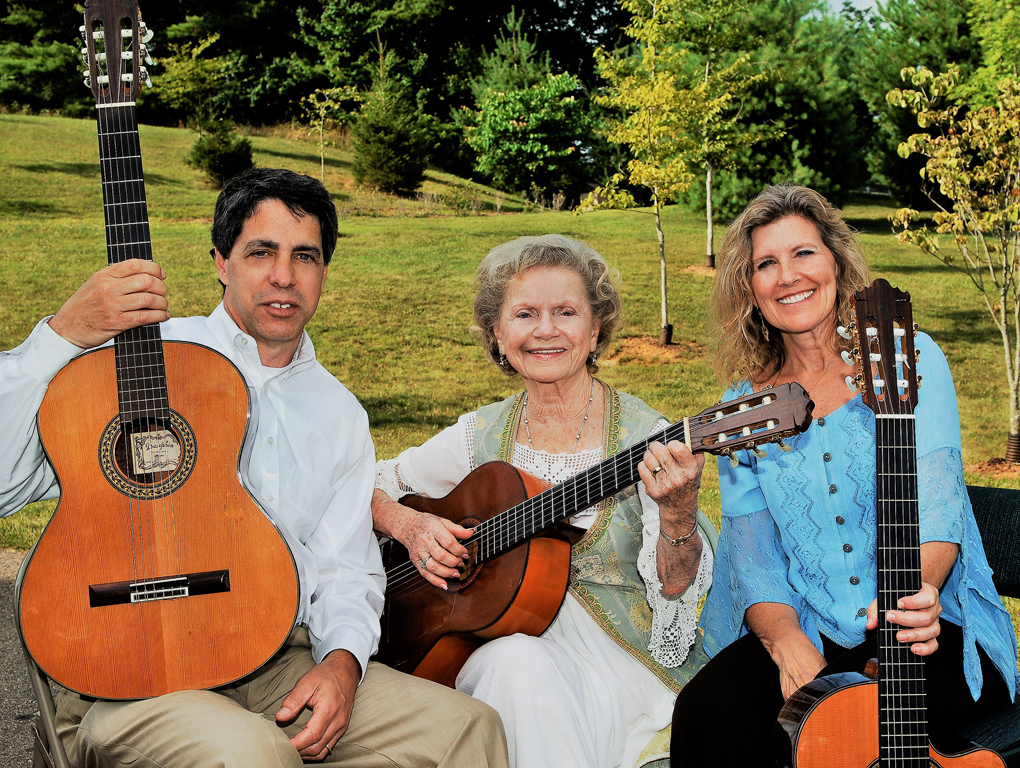 HB, FJ, SG at the Blue Ridge Music Center, 2010, photo by Tom Pich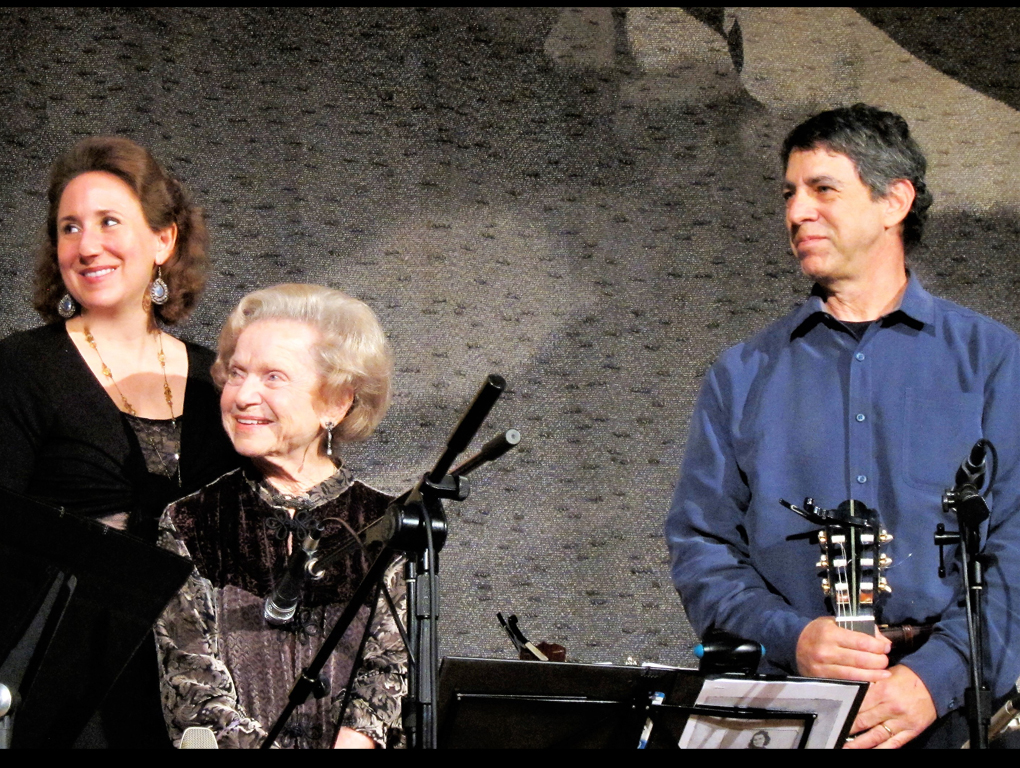 Tiffani Ferrantelli, FJ, HB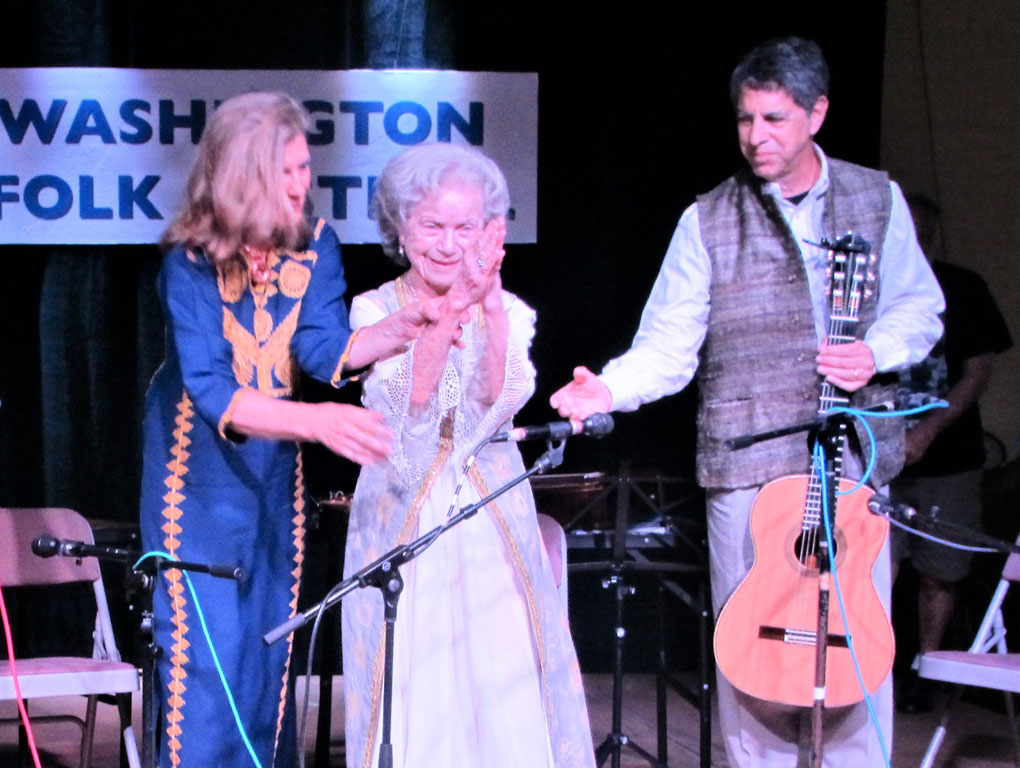 Washington Folk Festival, ca. 2015, SG, FJ, HB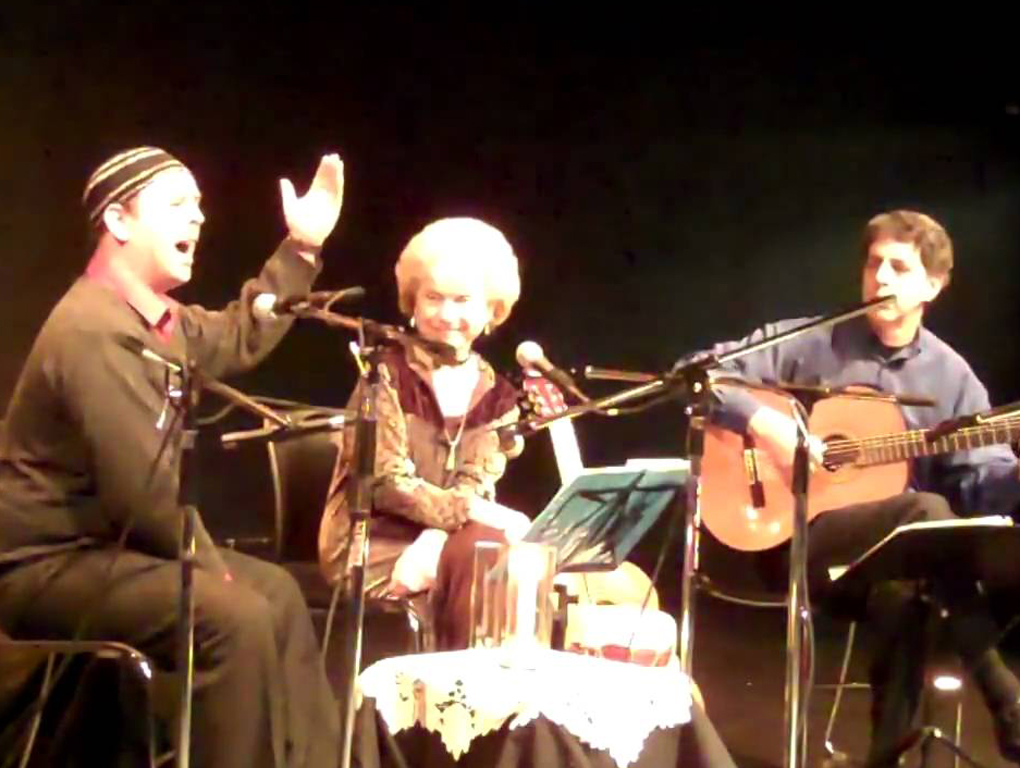 Boston Jewish Music Festival, 2010; Cantor Gaston Bogomolni, FJ, HB