NOTES

La Yave d'Espanya | The Key from Spain
The songs on this recording come from Turkey, Greece, and the former Yugoslavia, where the Jews of Spain, known as Sephardim, flourished for more than four centuries. Most of these communities were destroyed in WWII, but we are now witnessing a surge of interest in Sephardic songs in the Americas, Europe, and Israel. Like traditional music everywhere, the songs speak of love and loss, courtship and marriage, holidays and histories. The language is Ladino, or Judeo-Espanyol, typically described as an older form of Spanish, sometimes mixed with words and phrases in Hebrew and various local languages, such as Turkish or Arabic, depending on where the Sephardim settled.
We are honored to include the first recording of "Sviraj Harmoniku" ("Play Your Accordion"), Flory Jagoda's anguished song about her escape from Zagreb soon after the Nazi occupation. We also present Flory's "La Yave d'Espanya," just as she taught it to Susan and Howard. This song evokes the hope long nourished among the Sephardim that they would one day return to their homes in Spain. It is said that when they left Spain, the Jews took their house keys and passed them down through the generations; if you visit a Sephardic home today you may see ancient-looking keys hanging on the wall. For us, these keys represent a way to unlock the door to a world that has all but vanished but is not forgotten.
Two talented young musicians, Gina Sobel and Brian Kay, joined us for this recording. Gina is a vocalist, multi-instrumentalist, and composer who was Susan's apprentice in the Virginia Humanities Folklife Apprenticeship Program (just as Susan was Flory's apprentice some years ago). Brian is a singer, percussionist, song-writer, and plucked-string master who is at home in a wide variety of musical genres, including traditional, early music, and rock.
Credits
Executive Producers: Howard Bass and Tina Chancey
Session Producer: Tina Chancey
Recording and Mixing: Jim Robeson Productions
Mastering: Charlie Pilzer, Tonal Park
Art Direction and Photography: Michael G. Stewart
Recorded in Gaithersburg, Maryland, October-December 2018
Guest Artists Brian Kay, percussion and Gina Sobel, vocalist
Notes: Howard Bass
For inspiration and assistance, the trio thanks Daphna Mor, Karen Sarhon, Paul Oorts, Jane Mushabac, and, as always, our dear Nona Flory Jagoda. For their on-going support and encouragement, we are deeply grateful to Flory's daughters, Betty Jagoda Murphy and Lori Jagoda Lowell, and to Jon Lohman, director of the Virginia Folklife Program at Virginia Humanities.
La Yave d'Espanya" copyright Flory Jagoda, used by permission.
Translations, Credits, and Descriptions
"The new CD is truly superb…a very high standard as to performance, musicianship, and production. It's impeccably done, from start to finish. It was telling that Flory's songs are so alive with music and feeling. They seem to be at the heart of this album. Sviraj Harmoniku" is such a gem! The singing throughout is fantastic, with a haunting, old-world, even ancient world, resonance."
Terence Winch, musician, songwriter, poet
---
Bio of CD Guest Performers 
Brian Kay
guest artist, percussion
Brian Kay is a modern-day troubadour. A critically acclaimed singer and instrumentalist, Brian performs throughout the US, both as a solo artist, and with a number of esteemed ensembles. His concerts have been hailed as "Far-ranging", "Brilliant", and "Exciting."-Cleveland Classical His guitar work "reminiscent of contemporary banjo virtuoso Béla Fleck."-BachTrack "Singing with a pure, centered sound and impeccable diction, he's a natural-born storyteller. At times the lead vocalist of a rock band, at times an art-song singer, and at others a shy poet, he had you hanging onto his every word…his attributes made for a memorable listening experience."-Cleveland.com
He has been featured at distinguished venues such as Carnegie Hall, The Kennedy Center, Shriver Hall, and The Boston Early Music Festival. His live radio appearances include NPR, Baltimore's WYPR, Baltimore's 98ROCK, Boston's WGBH, and Cleveland's WCLV. He has recorded with record labels Avie and Sono Luminus and has two acoustic solo albums; Ocean (2013) and Three Ravens (2015). He performs with Apollo's Fire, Ayreheart, Hesperus, Twa Corbies, and is a founding member of the early music improvisation group Divisio. https://www.briankaymusic.com/
Gina Sobel
guest artist, vocals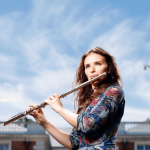 Photo by Jonathan TimmesGina Sobel is a natural improviser. A virtuoso on multiple instruments (flute, sax, voice), she exudes energy and excitement in her live performances and is in sought after as a soloist with national and international performers. In her own music, Sobel combines diverse genres to unite elements of funk, jazz and American folk music into a fresh and compelling sound. Sobel is the bandleader of Choose Your Own Adventure, a high-energy funk group featuring a brilliant group of musicians, and she is active in genres across the spectrum, ranging from hip hop to bluegrass and everything in between.
Sobel's improvisation and style is so compelling that she is in high demand across a massive range of genres. Over the last couple years, Gina has recorded, collaborated and performed with artists including: Emancipator (down-tempo electronica), Rickie Simpkins (bluegrass), Jeff Coffin (jazz), Parachute (pop), Cory Wong of Vulfpeck (funk), Darryl Davis (boogie woogie), John D'earth (jazz), Flory Jagoda and Susan Gaeta (Sephardic), Dopapod (funk/electronica), Wytold (contemporary chamber music) and McKinley Dixon (hip hop). Recently, Sobel has played Red Rocks Amphitheater, New Orleans Jazz Fest, The Kennedy Center, 9:30 Club and the Richmond Folk Festival. In 2018, she completed both the Strathmore Artist in Residence program and the Virginia Folklife Apprenticeship. She has a number of her own releases, most recently Aussie Rules by Choose Your Own Adventure. http://www.ginasobel.com/